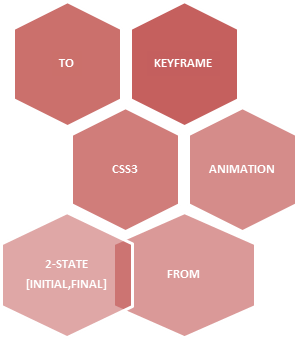 A custom CSS3 Animation can be created using 'kreyframe' property.
Using Keyframe the animation definition can be given using 'from' and 'to' keyword.
These keywords designates the initial state and final state of an animation.
Using from/to keyword only 2 states of animation are possible.
If we need to have multiple state animation, we can use "%" percentage for different state.
In this Demo, "We will use from/to combination to create 2-state animation for a text to animate size and color ".
Below Code shows to create custom animation class 'bckColorAnimation'.
@keyframes bckColorAnimation {
    from {
        color: Red;
        font-size:10px;
    }
    to {
        color: Green;
        font-size:30px;
    }
}
@-webkit-keyframes bckColorAnimation {
    from {
        color: Red;
        font-size:10px;
    }
    to {
        color: Green;
        font-size:30px;
    }
}
@-moz-keyframes bckColorAnimation {
    from {
        color: Red;
        font-size:10px;
    }
    to {
        color: Green;
        font-size:30px;
    }
}
@-o-keyframes bckColorAnimation {
    from {
        color: Red;
        font-size:10px;
    }
    to {
        color: Green;
        font-size:30px;
    }
}

Below code shows how to call a animation for the class element,
.name-container {
    -webkit-animation: bckColorAnimation 3s infinite;
    /* Safari 4+ */
    -moz-animation: bckColorAnimation 3s infinite;
    /* Fx 5+ */
    -o-animation: bckColorAnimation 3s infinite;
    /* Opera 12+ */
    animation:bckColorAnimation 3s infinite;
    /* IE 10+ */
    animation-timing-function: ease-in;
}

The HTML markup we have used for the demo is as below:-
<h3 class='name-container'>
    Sandeep Kumar Patel
</h3>

Check out below fiddle output:-