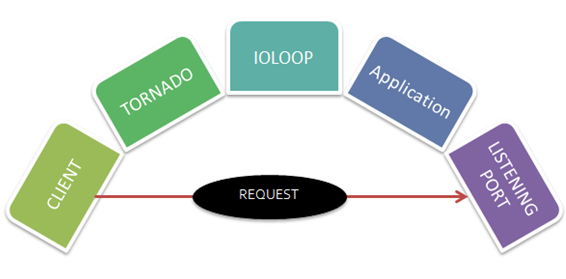 "Tornado" is a Python based framework to create web applications.
Most important features of this framework are:-
—Asynchronous I/O calls.
—Web Sockets.
—Maximum Polling .
In this Demo, "We will learn about installing the tornado site package with a simple program listing to a port".
To install tornado framework use the PIP tool.Below screenshot shows the detailed command for installation of tornado framework,
Yo can verify the installation by checking the 'site-packages' directory under python library.Below screenshot shows the installation path,
Let' create a python project 'TornadoWebAppDemo' and have a 'main.py' python file as below,
The main.py file contains the below code,
import tornado.ioloop
import tornado.web
class MainHandler(tornado.web.RequestHandler):
    def get(self):
        self.write("Hi Sandeep, Welcome to Tornado Web Framework.")

if __name__ == "__main__":
    application = tornado.web.Application([
        (r"/", MainHandler),
    ])
    application.listen(8888)
    tornado.ioloop.IOLoop.instance().start()
_main_ :
–This is the main method where python start executing.Single point Entry for the program.
tornado.web.Application :
–This is the class which creates a base for web application taking a collection of handlers.
–In this Demo "MainHandler" is the single handler mapped to root path.
listen(8888) :
–Application listen to port 8888.Any client can communicate this application using this port .
tornado.ioloop.IOLoop.instance().start():
–IOLoop class is main event for the application.
–Create a non blocking thread for an application.
–It is singleton in nature.
MainHandler:
–It is handler for a request.
— It refers to the current context using 'self'.
— Returns the response using write() method.
We can run the application using command prompt or use any IDE like Eclipse with python or pycharm.
In Command Prompt,
In Pycharm,
Below screen shot shows output in the browser,