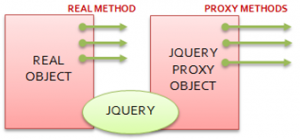 Jquery Provides Proxy Mechanism through $.proxy() method.
Proxy mechanism is really helpful where we need some delegate to represent the functionality.
Generic use case of a proxy mechanism is the way of binding different context to a method through a proxy wrapper.
In this Demo, "We will create method to change color of the text and expose it with a proxy for different context".
In this example we have ,
—A method called 'chageColor()' inside a EVENT_SCRIPT object.
—This method is wrapped around by jquery proxy object and exposed by 'proxyChangeColor' variable.
—'proxyChangeColor' is then binded with two different contexts of student container and fruit container.
The markup used for this demo is as below,
<ul class='student-container'>
    <li>Sandeep1</li>
    <li>Sandeep2</li>
    <li>Sandeep3</li>
</ul>
<span class='fruit-container'>
 <span>Mango</span>
 <span>Apple</span>
 <span>Orange</span>
</span>

The jquery code for the proxy binding is as below
var EVENT_SCRIPT = {
    /*Changes the color*/
    changeColor: function (event) {
        var currentElement = event.target;
        $(currentElement).css('color', 'red');
    }
},
proxyChangeColor = $.proxy(EVENT_SCRIPT.changeColor, EVENT_SCRIPT);
$('.student-container li').on('click', proxyChangeColor);
$('.fruit-container span').on('click', proxyChangeColor);

The output of the code is present the below fiddle:-