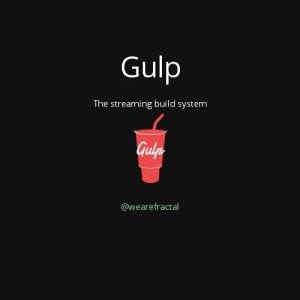 A Gulp plugin takes input a vinyl file object and returns a vinyl file object.
Vinyl means Virtual file format and It represents metadata object that describes a file.For example path and content are attributes on a Vinyl object.
In this Demo, "We will learn to develop a custom Gulp plugin".
We will be developing a pretty basic Gulp plugin name gulp-letter-type, Which converts the text to either UPPER or LOWER case.
To demonstrate the Gulp plugin development we have created GulpLetterType project.The following screenshot shows the project structure of GulpLetterType.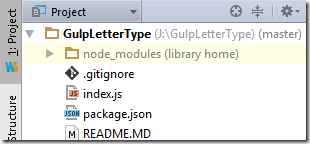 gulp module can be installed using npm install gulp –save-dev command.The following screenshot shows the terminal with gulp installation:-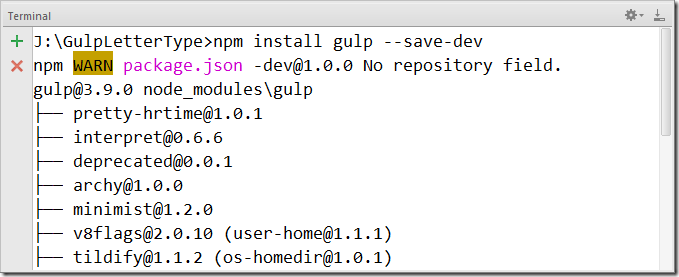 through2 module can be installed using npm install through2 –save-dev command.The following screenshot shows the terminal with through2 installation:-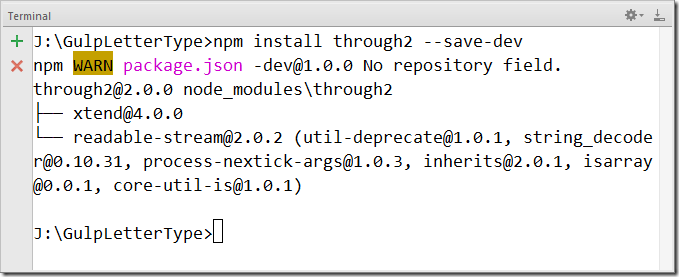 gulp-util module can be installed using npm install gulp-util –save-dev command.The following screenshot shows the terminal with gulp-util installation:-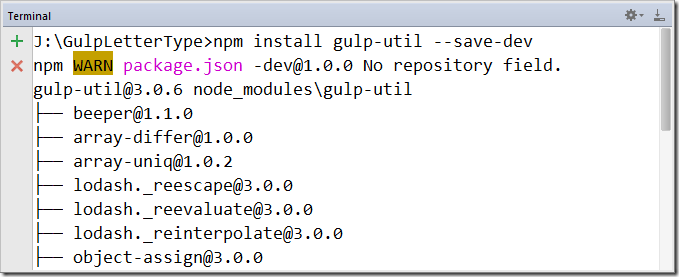 gulp-dest module can be installed using npm install gulp-dest –save-dev command.The following screenshot shows the terminal with gulp-dest installation:-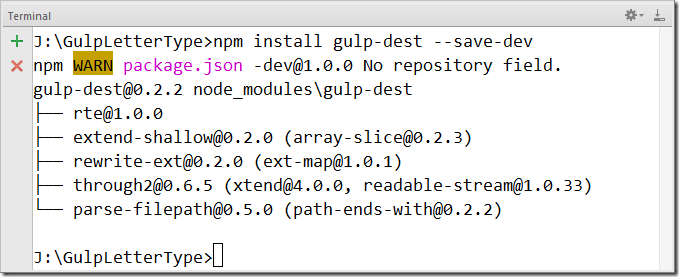 The index.js file contains the main code definition for gulp-letter-type plugin.The gulpText method is exported using module.exports property.The code content of index.js file are as follows:-
'use strict';
const PLUGIN_NAME = 'gulp-letter-type';
var through = require('through2'),
    gutil = require('gulp-util'),
    PluginError = gutil.PluginError;
/**
 * This method transform the input string to upper/lower case
 * @param caseType - The transform type upper/lower
 * @param inputString - The input string
 * @returns {string} - The transformed string
 */
var transformText = function(caseType,inputString){
    var outString = null;
    switch(caseType){
        case 'uppercase':
            outString = inputString.toUpperCase();
            break;
        case 'lowercase':
            outString = inputString.toLowerCase();
            break;
        default:
            outString = inputString;
            break;
    }
   return outString;
};

/**
 * This method is used for transforming the text to the target type.
 * @param caseType
 */
var gulpText = function(caseType) {
    return through.obj(function (file, enc, callback) {
        var isBuffer = false,
            inputString = null,
            result = null,
            outBuffer=null;
        //Empty file and directory not supported
        if (file === null || file.isDirectory()) {
            this.push(file);
            return callback();
        }
        isBuffer = file.isBuffer();
        if(isBuffer){
            inputString = new String(file.contents);
            result = transformText(caseType, inputString);
            outBuffer = new Buffer(result);
            var aFile = new gutil.File();
            aFile.path = file.path;
            aFile.contents = outBuffer;
            callback(null,aFile);
        }else{
            this.emit('error',
                new PluginError(PLUGIN_NAME,
                'Only Buffer format is supported'));
            callback();
        }
    });
};
//Export the Method
module.exports = gulpText;

The demo code can be downloaded from the following link:-
https://github.com/saan1984/GulpLetterType